Cole Palen founded the Old Rhinebeck Aerodrome in 1958 with a handful of airplanes and a dream. He built it into a world-renowned destination as America's first flying museum of antique aircraft. The Rhinebeck Aerodrome Museum was established in 1993 as a 501 (c) (3) non-profit organization to continue Cole's legacy. Our mission is preserving, restoring and flying the aircraft of the Pioneer, WWI, and Golden Ages of Aviation.
We entertain and educate by preserving over 60 vintage aircraft, many antique automobiles and motorcycles, and related memorabilia in a classic small town airport setting. Our static display Museum is open from May through October and we fly two different airshows each Saturday and Sunday, Mid-June through Mid-October.
RAM consists of a volunteer Board of Trustees, professional staff, and many volunteers who do everything from restorations to mowing the runway.
The RAM Board meets the first Wednesday of each month. Meetings are at 6 PM via Zoom. For the Zoom link, contact: mffisher@oldrhinebeck.org.
Our Professional Staff
Ken Cassens (Mechanic) was hired by Cole Palen and is well-known for his high quality work, winning "Best Homebuilt" for his Starduster II at the EAA's AirVenture Fly-in. His lifetime career in aviation started when he soloed at age 16. He served with the Air National Guard as a flight engineer aboard C97s and flew with the airlines for many years. He has thousands of hours in the air, including over 10,000 rides in our New Standard D-25.  Ken alway has a new project in the shop–right now it's an Arup S-2 replica.
Tara Grieb (Director of Operations) has been part of the Aerodrome since the late 80's. Starting in the snack stand, she finally realized her dream of becoming Trudy Truelove and did so until 1997. During her time at the Aerodrome she could be found giving tours, painting signs, planes and automobiles, loading the rides plane or being tied to the barrel in the middle of the runway. She spent the last 25 years in public education. For 17 years she served as a building principal in local high schools where she gained experience with budget, planning, logistics, community relations and more. In addition to her leadership experience Tara has experience in public speaking, mentorship and fundraising for the Leukemia and Lymphoma Society. She is extremely proud to be returning to the Aerodrome in a leadership capacity as it continues to grow and evolve.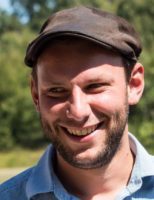 Mark Mondello (Director of Aircraft Maintenance) became a volunteer in the ticket booth in 2004, progressed to ground crew and mechanics' helper, groundskeeper, airshow announcer and eventually full-time mechanic in 2014. Mark attended SUNY College of Environmental Science and Forestry. He also attended Mohawk Valley Community College's Aviation Maintenance Technician Program, graduating a Valedictorian in 2013. He later obtained his Airframe and Power Plant certification, holds an Airworthiness Inspector Certificate, and a Commercial Pilot's License. He is a Senior Member and Pilot in the Civil Air Patrol.
Rhinebeck Aerodrome Museum Trustees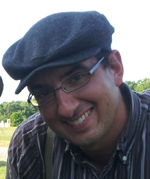 Michael DiGiacomio (President) grew up in New Paltz N.Y. During his younger years spent many hours building model aircraft and volunteering work on full-scale aircraft at Stanton airport. He graduated from SUNY Environmental Science and Forestry College in Syracuse. Mike operates Mike's Tree Service in Dutchess County. He and his wife JoAnn have two children, Anson & Everett. JoAnn volunteers at the Aerodrome, mostly in the gift shop. Mike attended his first airshow and took his first airplane ride at Old Rhinebeck as a child. He has been actively volunteering since 2001, starting with cutting the grass and then helping with the airshows. He has been a member of the Museum Board of Trustees since 2007.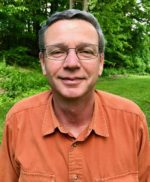 Warren Batson (Treasurer) grew up on Long Island, in the direct flight path to the North-South runway of Republic airfield. He always gravitated to model aircraft and he started building at age 8 and progressed through many rubber band-powered Guillow's kits and eventually to radio-controlled aircraft. Warren's first exposure to the Old Rhinebeck Aerodrome came from seeing coverage in R/C Modeler magazine and he made the 150-mile trip from Long Island to Rhinebeck where he met Cole Palen. Years later, after graduating from college, Warren moved to the area, joined the Mid- Hudson R/C club and became very involved in the running of the Old Rhinebeck Jamboree event. Warren takes responsibility for the Aerodrome physical plant and is vital to our recent and continuing improvements. Warren received his Light Sport Pilot License in early 2017.
Mike Fisher (Secretary) was born in Rhinebeck and grew up in Red Hook. A chance encounter, as a teenager, with the late Gordon Bainbridge brought him to the Aerodrome for a visit and he was hooked. Mike interested his father and two brothers and soon all were taking lessons and rebuilding Cubs and Champs. He soloed at 16, in the family Lycoming J-3 Cub, at the Aerodrome. In addition to the Aerodrome, Mike's other passion was radio and he worked at several Hudson Valley and Central New York stations. He announced ORA Airshows for 25 years and is recently back at it. He holds degrees in media from Syracuse University and The New School for Social Research. Mike is retired after 40 years as a college professor and Division Chair. He also sits on the board of the Museum at Bethel Woods, at the site of the original Woodstock concert. He lives with his wife, Karen, in western Sullivan County, NY.
Clay Hammond (Chief Pilot) took his first airplane ride when he was just five weeks old on his mom's lap in the family J-3 Cub, flying out of Old Rhinebeck. Clay grew up at ORA while his parents worked for Cole Palen, and began flying vintage aircraft at an early age. A professional pilot and aviation salesman by trade, he has specialized in aircraft sales, ferry and delivery of aircraft new and old. He once delivered a YMF-5 WACO from Los Angeles to Atlanta in only two days, just to see what it was like to fly a Bendix Race. He says: "Cole Palen had a natural ability to empower others to do great things. His enthusiasm for vintage aircraft preservation was infectious and his special brand of "keep 'em flying" was central in kick starting the vintage aviation restoration movement." He credits Cole with an ability to entertain audiences with colorful characters, zany antics, and a comical story line, in the process providing an education that simply isn't taught anywhere else and showing the aircraft and vehicles in their natural environment. Preservation, education and teaching historical awareness through entertainment remains a cornerstone of the Aerodrome experience, and it is Clay's hope that he can help to ensure this for decades to come.
Heather Howley has been all over the country pursuing her love of aviation. She settled in the Hudson Valley when she started Independent Helicopters at Stewart International Airport, with $25, building it into an area leader in the industry. She participated in the Aerodrome's Girls with Wings program, and fell in love with Old Rhinebeck.  Her dedication to preserving and growing ORA received a boost when she held her wedding and, later, her husband's memorial there.  Heather is an ATP rated Helicopter pilot, Private Fixed wing pilot, Designated Pilot Examiner and thriving business owner contributing to the Hudson Valley in many ways.
Pamela Leignadier is a lifelong resident and community volunteer of the Hudson Valley, Pamela has been in the banking world since 1990 at Walden Savings Bank. She has a proven track record of successful teamwork, rising from her first Teller's position to Branch Manager. She is proud to continually develop a well-known reputation for caring and customer service. In her free time, Pamela is an avid photographer and has been published in regional periodicals, local newspapers and featured on the WeatherChannel.com. Her dedication to work with non-profits such as the American Cancer Society now reaches to the Old Rhinebeck Aerodrome, adding another female voice to our missions of growth and community involvement.
Robert Lippman was born and raised in Brooklyn, NY. Bob fell in love with the Hudson Valley while studying political science at SUNY New Paltz, where he was Student Association President.  He earned a degree at Benjamin Cardozo School of law in NYC, and immediately relocated to upstate NY, practicing commercial law, intellectual property and litigation at the offices of Lemery Greisler LLC. His lifelong passions for history and aviation led him to the Aerodrome, where he passed those interests along to his son, Ethan, through yearly Father's Day biplane rides and getting to know many of the pilots and staff. His dedication to preserving and growing ORA received an unexpected boost when he met his wife Johanna in 2008 and discovered that her father and Cole Palen grew up across the street from each other and flew together after WW2.  Bob is a model airplane builder, R/C pilot, President of the North Country Flying Tigers Model Airplane Club (AMA Chapter #3937) and is currently pursuing his Light Sport Pilot's License.
Knick Staley is a native son whose family has lived in Rhinebeck for six generations. His father, Homer Knickerbocker Staley Sr., brokered the sale of the farm to Cole Palen that became the Aerodrome in 1959. His personal involvement dates back to 1973 – 1980 when young Knick, as a 15-year member of the Rhinebeck – Red Hook Jaycees and director of the District and Regional New York State Jaycees, staffed and helped manage the concession stand at the Aerodrome for Cole and Rita Palen. His return to volunteer at the Aerodrome during the fall of 2011 was most welcome. "Knick" Staley is also a member of the Rhinebeck area Chamber of Commerce, past president of the Rhinebeck Rotary Club and served as president of both the Dutchess County Board of Realtors and Columbia/ Northern Dutchess Multiple Listing Service. Knick was named Realtor of the year in 2009. He served on the Rhinebeck Town Council 1992-1996 and is treasurer for the Rhinebeck Republican Committee. Knick is a U.S. Army veteran and retired from IBM after 30 years of service in 1993.
David Trost, MD (Vice President) Dave's father hung model airplanes over his crib and started a lifelong love of aviation. Today, he flies a 1930 Fleet Model 1 based at the Aerodrome. He first visited the Aerodrome in 1997 and again when his daughter requested a ride "…in a plane where your head is outside." Dave has been a volunteer for years, working on restorations, Air Show ground crew, facility maintenance, and photo services. He is an Interventional Radiologist and former director at Weill Cornell Medical Center, holds a BA from Johns Hopkins University, MD from Georgetown University and a Fellowship from Cornell Medical College. He sits on the Scientific Advisory Board of Argon Medical Systems and is Co-Director of the Open Medical Institute Salzburg Medical Seminars. Dave is an airshow pilot and recently received his Commercial Pilot's License.