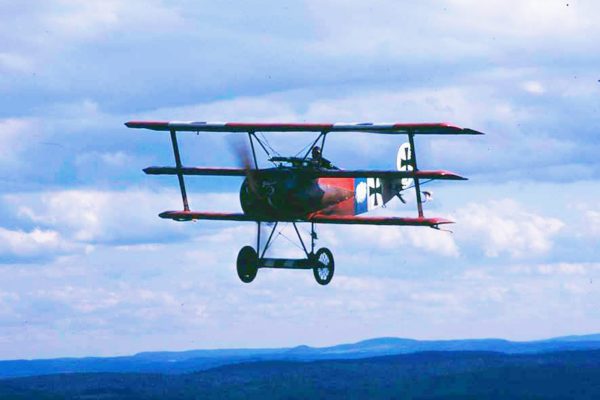 Fokker Dr.1
: Germany
: 1917
: Le Rhone or Oberursel
110
23 ' 7"
102 mph (164 km/hr)
1290 lbs (585 kg)


: Static Exhibit
: Reproduction
The Fokker Dr.I combined excellent maneuverability with a high rate of climb. It was favored by Manfred von Richthofen, and Werner Voss, two of Germany's legendary fighter pilots. Both lost their lives in this type of aircraft in two of the most talked about air battles of the war.
The Dr.I was developed from the lesser known Fokker D.VI biplane, both featured cantilever wings (which did not require external bracing). This wing design was a tremendous breakthrough in aircraft development. However, many Triplanes suffered wing failures in flight, resulting in fatal crashes. The design was slightly modified, but evidence indicates the failures were caused by poor workmanship in the form of insufficient varnish which resulted in moisture absorption and deterioration of the wooden wings.
There are no known original Fokker triplanes in existence. In 1967, Cole Palen constructed this reproduction, complete with a 110 hp Le Rhone rotary engine, using drawings from several sources including those made by the British from a captured aircraft.
It is fair to say that with this particular aircraft, Cole Palen became responsible for popularizing the idea of homebuilding full-scale World War I reproduction aircraft around the world. It also played a major role in the growth of the Aerodrome, dogfighting Dick King's authentic Sopwith Pup reproduction for many years. After twenty years of continuous use, flying in nearly every Sunday show, the Dr.1 was retired.
Click for more information about the Fokker Dr.1