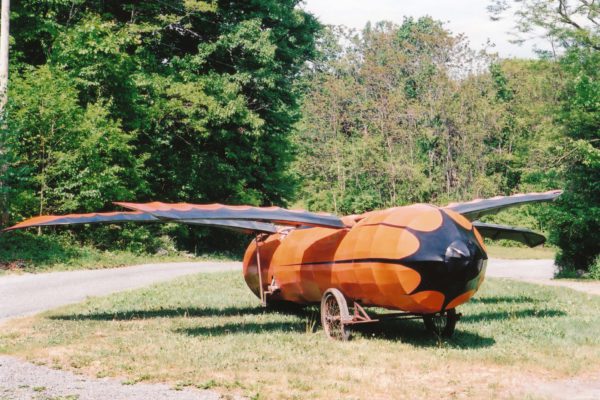 Passat Ornithopter
: 1910
: Motorcycle Engine
6
24 '


: Static Exhibit
: Reproduction
Jean Baptiste Passat, a Frenchman living in London, designed and built his ornithopter with the hope that its four flapping wings would carry it aloft. Its tiny engine and drive train flapped the wings and powered the rear wheels to aid in the lift off. Passat claimed to have flown this type aircraft some 30 yards at a height of 6 feet. It was later reported to have flown 450' on Wimbledon Common until encountering a tree. The wings could be folded back for transport and it could cruise like an automobile on the ground. Dates associated with this aircraft vary by source from 1908 to 1912.
This reproduction aircraft was built at White Waltham Aerodrome in England for the film, "Those Magnificent Men in Their Flying Machines." It was equipped with a 16 HP Douglas motorcycle engine to power the rear wheels and flap the rear wings for the film, and although the original designer was French and it was built in England, it was an Italian pilot who briefly flew the Passat in the movie.
The ornithopter was given to Cole Palen in return for promoting the film in the United States. Cole transported several of his own pioneer aircraft to 13 major cities in the northeast and had been promised an aircraft from the film in return for his efforts. He was disappointed when the Ornithopter arrived at the Aerodrome rather than the airworthy Bristol Boxkite or Avro Triplane. Even so, this Passat Ornithopter is a part of major motion-picture history and its small role in this classic film was memorable.
Click for more information about the Passat Ornithopter